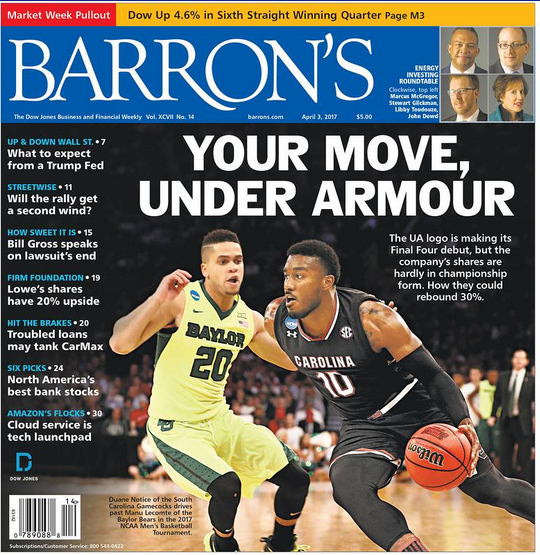 Highlights from Barron's newspaper dated April 3, 2017.  See online edition here ($)
Background
For the serious investor, Barron's weekly newspaper is the single best financial publication out there. It is comprehensive, inexpensive, and focused on a single topic: the financial markets. Each issue is loaded with specific investment ideas. These ideas can come from Barron's own research, or outside research sources. Most are both timely and topical. Barron's makes the assumption that its readers are familiar with investing analysis and terminology. The target audience includes senior managers and executives, institutional investors, finance professionals, and serious individual investors.
Most of the articles in Barron's are interesting and informative, and even if you don't follow its trade recommendations, you will probably learn something useful. Barron's is an excellent read for anyone interested in solid investing news and analysis. Due to its exclusive focus on investing, I would recommend it as a core resource for anyone who wants to stay fully-informed. For a pure publication on the financial markets, Barron's is tough to beat.
Here come the stock-picking robots
Robots may take almost 40% of American jobs by 2030, according to consulting firm PwC, but they could be coming for money managers' jobs even sooner. Firms are increasingly turning to computer-based models to boost performance, reduce fees, and stem the exodus from actively managed funds.
BlackRock (ticker: BLK) last week offered the highest-profile example of this trend when it said it was overhauling its actively managed stock funds to use more robots and fewer humans. The world's largest asset manager, with $5.1 trillion in assets under management, is feeling the heat. Over the past five years, BlackRock suffered $28 billion in net outflows from its actively managed stock funds, says Morningstar; only 18% ranked in the top quartile of their Morningstar category based on average three-year performances.
Investing in Europe ETFs
There are 42 Europe-centric ETFs, but almost no sector ETFs for European companies. The question is, Europe or euro zone? Europe ETFs are made up of European countries by geography, whereas euro zone ETFs hold stocks only from countries that use the euro as their currency. That leaves out nine European nations—including the U.K., Switzerland, Denmark, and Poland—and all the big multinationals and smaller regional companies domiciled there.
That's significant: Companies in the U.K. and Switzerland make up nearly 45% of the total market capitalization of Europe. The $1.7 billion iShares Core MSCI Europe ETF (IEUR), for instance, has 976 stocks, with an average market value of $29 billion. The $9 billion iShares MSCI Eurozone (EZU) has just 245 stocks, with an average market value of $37 billion. The $11 billion Vanguard FTSE Europe (VGK) owns more than 1,100 companies, with an average market cap of $30 billion. All three funds have nearly identical sector weightings, with 20% in financial stocks, but the euro zone fund is missing big banks like HSBC Holdings (HSBA.UK), which gained 50% in the past year.
The end of the Trump trade?
It was the quarter the Trump trade died…and the market didn't seem to mind.
Yes, the Dow Jones Industrial Average rose 4.6% to 20,663.22 during the first three months of 2017, its sixth straight quarter of gains, while the Standard & Poor's 500 index gained 5.5% to 2,362.72, and the Nasdaq Composite climbed 9.8% to 5,911.74, its best quarter since 2013.
But the market produced those gains without much help from the sectors that surged following the November presidential election—the ones that were supposed to benefit the most from the policies proposed by President Donald J. Trump. The S&P 500 Industrials index, which was supposed to benefit from increased infrastructure spending, rose 4%; financials, which would benefit from scaled-back regulation, advanced just 2.1%; and energy tumbled 7.3%. Instead it was the anti-Trump stocks that led the way higher, with technology gaining a whopping 12%. "Tech was left for dead after the election," says Rhino Trading Partners' Michael Block. In 2017, it has been the market's best performer.
European banks making a big comeback
The good news is that euro zone inflation exceeded the ECB's target of just below 2% for the first time in four years in February. Unemployment, the currency's bloc's other bête noire, has finally slipped into single digits. It stood at 9.6% in both December and January, its lowest since 2009.
Those figures, along with growing business confidence and rising retail sales, have increased speculation that the ECB could start tapering its quantitative-easing program and raise interest rates. One such move is already in the pipeline, although the ECB insists that it doesn't indicate the start of a tapering plan. From April, it will reduce the value of its monthly bond purchases to 60 billion euros ($64.34 billion) from the current €80 billion. The program is slated to run until the end of the year.
Silver is on a tear
Uncertainty in global politics and an improving economic picture should sustain the recent jump in silver prices, likely pushing them higher.
Silver futures have risen 14% since the start of the year, on the back of a 16% gain in 2016, their best annual performance since 2010. The precious metal has outperformed gold, which is up 8% this year; silver tends to track gold's price direction, though with bigger swings.
Investors seeking safe assets amid an increasingly unstable political backdrop are driving much of the demand for precious metals.
Concern over the United Kingdom's decision to leave the European Union crept back into the market last week, as Prime Minister Theresa May triggered negotiations for Brexit on Wednesday. The new administration in the U.S. has also caused jitters, as investors fret that a failed health-care reform bill indicates impending struggles to deliver on tax reform and fiscal stimulus.
"Political uncertainty is keeping the gold market afloat," says Bob Haberkorn, senior market strategist at RJO Futures. And silver should follow gold higher.
That Other Recession Is Over
Morning Briefing
by Yardeni Research
yardeni.com
March 29: The global economy fell into a growth recession from mid-2014 through early 2016. It was caused by a severe recession in the global commodities sector, led by a collapse in oil prices. It was widely expected that the negative consequences of lower oil prices for producers would be more than offset by the positive ones for consumers. But that was not the case. The former outweighed the latter because commodity-related cuts in capital spending overshadowed the boost to consumer spending from lower oil prices. In addition, there was a brief credit crunch in the high-yield market on fears that commodity producers would default on their bonds and trigger a widespread financial contagion.
Now the worst is over for commodity producers, as their prices have rebounded. That's because they scrambled to reduce output and restructured their operations to be more profitable at lower prices. More importantly, global demand for commodities stayed solid. Now, with commodity prices, especially oil prices, well below their 2014 highs, consumers are benefitting more than producers are suffering.
Voilà! The global economy is showing more signs of improving in recent months. That's already boosting revenue growth for the S&P 500, and should be increasingly obvious as corporations report their top-line growth rates during the first-quarter earnings season in April.
—Ed Yardeni