Highlights from Barron's newspaper dated December 12, 2016.  See online edition here ($)
Background
For the serious investor, Barron's weekly newspaper is the single best financial publication out there. It is comprehensive, inexpensive, and focused on a single topic: the financial markets. Each issue is loaded with specific investment ideas. These ideas can come from Barron's own research, or outside research sources. Most are both timely and topical. Barron's makes the assumption that its readers are familiar with investing analysis and terminology. The target audience includes senior managers and executives, institutional investors, finance professionals, and serious individual investors.
Most of the articles in Barron's are interesting and informative, and even if you don't follow its trade recommendations, you will probably learn something useful. Barron's is an excellent read for anyone interested in solid investing news and analysis. Due to its exclusive focus on investing, I would recommend it as a core resource for anyone who wants to stay fully-informed. For a pure publication on the financial markets, Barron's is tough to beat.
Up & Down Wall Street
In this week's issue, Barron's goes all-in for the sustainability of the Trump rally. That's fine with me, as long as you keep in mind that the editorial slant of this publication is decidedly pro-business, and politically right-of-center. After adjusting for this editorial bias, the pro-Trump articles still contain some interesting and useful information.
Cover Story
Get Ready for Dow 20,000. Up 13% so far this year, the Dow is outpacing both the S&P 500 and the Nasdaq. Powering the 30 Dow issues in the past month have been the index's four financial stocks, Goldman Sachs Group (ticker: GS), JPMorgan Chase (JPM) American Express (AXP), and Travelers (TRV). Goldman's Dow-leading 33% gain since the election has accounted for about a third of the index's total advance.
Two Charts – the history of Dow milestones, and the YTD contributions of each Dow stock.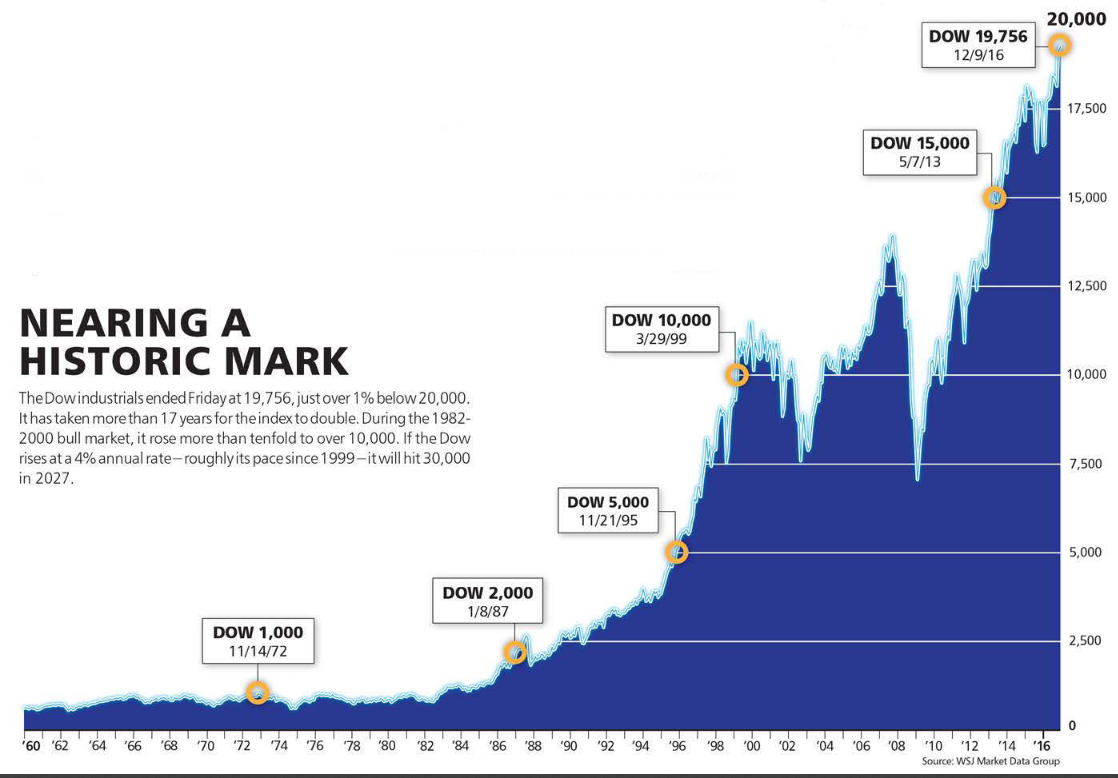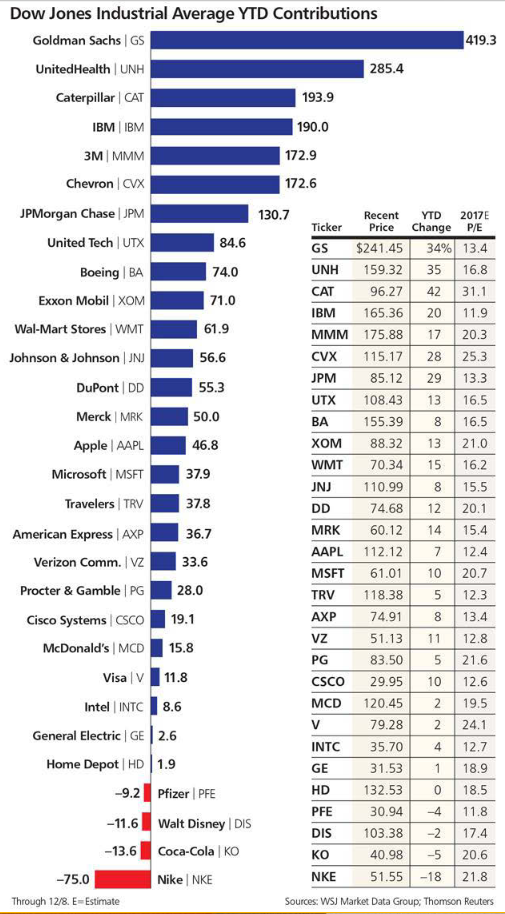 Barron's Editorial
Business Rolls Over, as Usual
The costs of crony capitalism are hard to see, but damaging for all. The Carrier case offers a worrisome example.
Too bad that Carrier President Chris Nelson and Gregory J. Hayes, CEO of United Technologies, the parent company, had no principles on which to stand for U.S. capitalism against the force of an oppressive government.They had their chance this month to remind the president-elect that there is a right to close businesses in the U.S. (after filing lots of forms with the Internal Revenue Service, the Labor Department, other federal agencies, and state regulators). And U.S. companies have a right to buy and sell and make components and products overseas.The CEOs also had their chance to tell the president-elect that he cannot impose a tax on the products of just one factory or company, especially not the products of an American-owned factory in a foreign country."If the Carrier case sets a precedent for how Trump's economic policies are going to work, it heralds a dangerous shift from an economic system based on rules, toward one based on deals," warned Robert Z. Lawrence, a professor of trade and investment at Harvard University's John F. Kennedy School of Government.
Stockpickers' Kingdom?
Why should we believe Wall Street, which once again is telling anyone who will listen that the market favors the stockpicker?
Cry wolf often enough, and no one will believe you when the beast finally appears. Likewise, tell investors often enough that it's a stockpicker's market, only to see stockpickers struggle, and they'll probably dismiss your claims out of hand. So this time, why should we believe Wall Street, which once again is telling anyone who will listen that the market favors the stockpicker?As you might have noticed, the gains in some sectors—financials, industrials, energy, and materials, among them—have been extraordinary since Trump's election, while others—utilities, consumer staples, and health care—have been punished. Not all stocks in those sectors, however, have deserved their gains or losses, providing opportunities for those who can tell the difference.
Silver to Regain Its Gleam
An imbalance between supply and demand is likely to boost beaten-down prices.
Silver may have been clobbered in recent months, but the price of the widely used metal is likely to strengthen gradually over the next year or two. A shortfall is expected to deepen as mine supplies shrink and industry and investment demand grows. It could be exacerbated by geopolitical and other concerns.

Investor appetite has sagged this year, most notably since the U.S. presidential election, when the "reflation trade" led investors to rush into stocks. Silver coin and bar sales are projected to fall by 24% year on year in 2016, says metals consultancy GFMS, a unit of Thomson Reuters. Bullish bets on the Comex division of the New York Mercantile Exchange have been slashed, while exchange-traded funds, including the iShares Silver Trust (ticker: SLV), have also recently posted outflows, albeit from near-record levels.

But HSBC precious metals analyst James Steel doesn't see the distaste lasting for the "poor man's gold." Economic and political concerns, whether linked to China's slowing economy, European weakness and discord, or the election of Donald J. Trump, haven't disappeared and could prompt a quick boost in prices at any time. "Any revival in investor uncertainty, combined with price-sensitive buying at these levels and limited supply growth, is likely to be conducive to higher prices," says Steel. Silver is often bought as a hedge against uncertainty.