My Best Stock Ideas For 2016
Get immediate access to the list that has beaten the market 8 years in a row
For the last eight years I have published a list of stocks that I thought would be solid performers over the following 12 months. Last year's list (posted on December 30, 2014) did very well, gaining 6.8% vs. -0.7% for the broader market. Below are last year's picks and their performance for 2015.
My 2015 picks gained 6.8%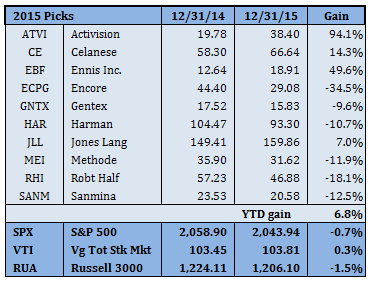 In coming up with my stock picks for 2016, I used the same screening process that has worked so well in the past. Here's a quick review of the 3 step process:
Starting with a universe of 8,000 stocks, I first screened for the ones that are rated 1 or 2 by Zacks Investment Research. This screen is all about earnings – growth, positive surprises, and upward revisions. This narrowed the list of candidates to about 900 names.
Next, I cross-referenced the Zacks list with VectorVest's top-rated stocks (VST score greater than 1). The VectorVest screen looks at price history to determine momentum, and various measures of relative value. This complements the earnings focus of the Zacks screen. The list of candidates that pass both of these screens is down to 388.
Lastly I ran the surviving names through the Thomson Reuters research screen, and kept only the names that scored at least an 8 on their 10 point scale. This screen consolidated the opinions of all the analysts who cover the stocks, and it gives more weight to those analysts who have proven to be the most accurate over time.
The 10 stocks that make it through all three of these screens are exceptionally strong candidates for solid returns in the coming year. It might be due to the fact that the screens do a great job of helping me avoid stocks that are temporarily hot due to short term popularity, and are likely to fade from that popularity as the year progresses.
The advantage of using this three-screen approach is that each source focuses on a different aspect of what makes a stock attractive. It's a Bayesian approach to stock selection. You begin with a prior probability (the Zacks rank has a history of identifying winning stocks), and you further refine the list by adding layers of non-correlated screening criteria.
I didn't spend months analyzing financial statements and visiting these companies in person. I'm relying on the analyst community to do that for me. My methodology takes into account a consensus of top analysts, and how their earnings estimates have changed over time.
I can be reasonably confident that these are solid companies, producing solid and growing earnings, and they would make great additions to your list.
Always perform your own due diligence before you invest in any list of stocks.
My top stocks for 2016 are available for free. Simply enter your name and email in the sign-up box above, and the list will be sent directly to your inbox. You will be asked to confirm that you are not a bot, but rest assured that we will respect your privacy.

The Zen Investor is a nonprofit organization and operates under a strict privacy policy. Occasionally, we would like to contact you about new features, special coverage, offers, and for market research purposes. Rest assured, we will never sell your e-mail address to third parties. You can unsubscribe from receiving e-mail communications at anytime.