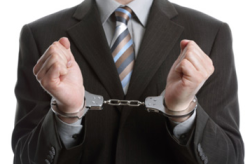 A new study from University of Chicago and University of Minnesota reveals that at some firms, as many as 20% of financial advisers on staff have been disciplined for misconduct.
"It's everywhere, not just small firms. It is pervasive," said Amit Seru, a finance professor at the University of Chicago's Booth School of Business and a co-author of "The Market for Financial Adviser Misconduct."
The paper is based on disclosures in the BrokerCheck database considered "indicative of adviser misconduct." The database is maintained by the Financial Industry Regulatory Authority, or FINRA, the industry's self-regulatory organization. The study counted as misconduct disclosures about an "investment-related arbitration or civil suit … that resulted in an arbitration or civil judgment for the customer," as well as formal proceedings by regulators "for a violation of investment-related rules," among other alleged infractions.
What Happens To Misbehaving Advisors?
Misconduct doesn't go unchecked. About half of misbehaving advisors are fired. But 44% of advisers who leave due to misconduct are picked up by another firm, according to the paper. Many of these fired advisers end up becoming repeat offenders. "Prior offenders are five times as likely to engage in new misconduct as the average financial adviser," the study found.
"This is eye-opening and suggests not only that some firms have a high tolerance for misconduct on the part of their employees, but that their very business model is to attract the broker who can generate high revenue at the cost of repetitive disciplinary violations," said John Coffee, a professor at Columbia Law School in New York. "FINRA needs to focus on this."
The Worst Firms For Advisor Misconduct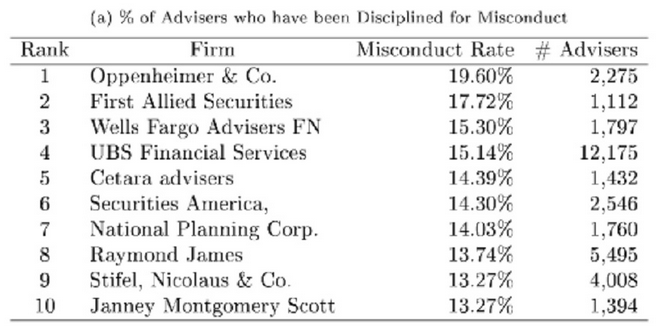 The Cleanest Firms For Advisor Misconduct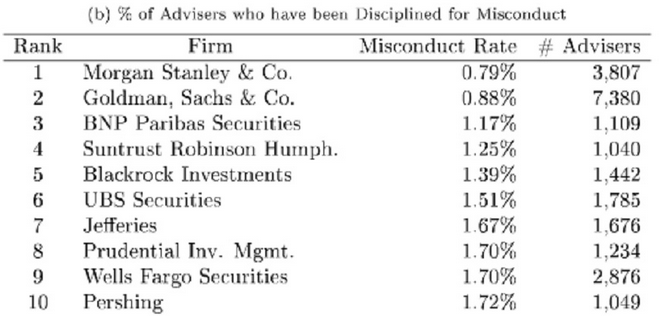 Sources: Study "The Market for Financial Adviser Misconduct"; FINRA; InvestmentNews.com