Have you drunk the "nobody can beat the market" Kool Aid? If so, don't worry. You're in good company. The majority of advisers, brokers, planners, and experts have pounded this claim into your head relentlessly. But is it true?
The Truth About Beating the Market
It's very hard for an investor, even a professional one, to beat the market with any consistency over time. Hence the "nobody can beat the market" meme that's repeated so often. But just because it's hard, doesn't mean that nobody can do it.
I offer just one example of a real, time-tested investment strategy that I have been using with real clients since 2005. This is not just a theoretical, back-tested strategy. The results since 2005 are actual returns from real money invested by real people. The numbers may surprise you.
The Zen Top 7 Strategy
I have been trading professionally since 1979. Over the years I've developed several trading strategies that have outperformed the market (generated alpha) with enough consistency to merit attention.
Until my "retirement" in 2008, I could only offer these strategies to wealthy clients of the firms that employed me. The minimum account size to get into these strategies was $5 million.
But when I left Wall Street in 2008, I was free to offer these same strategies to anyone I chose, regardless of how much money they had. The results have been outstanding, for me and for my clients.
What follows is a copy of one of my strategies that I offer exclusively on the SeekingAlpha platform. If you want to subscribe to this strategy, you must go through them. But I also offer several strategies directly to subscribers on this website. So there are plenty of ways to take advantage of the alpha that these strategies offer.
From SeekingAlpha:
Highlights for this week
The Top 7 Portfolio is beating the S&P 500 by 15.2% year-to-date.
We have just finished week #1 of the current portfolio.
Review of the performance of all 10 portfolios in 2017.
Review of the full 17-year performance history of the Zen Top 7 strategy.
 Week 1 scorecard for the current portfolio
The Top 7 Strategy is off to a great start this month. And, after 9 months, the Top 7 is beating the market by 15.2%. Let's look at the week 1 scorecard of the current portfolio.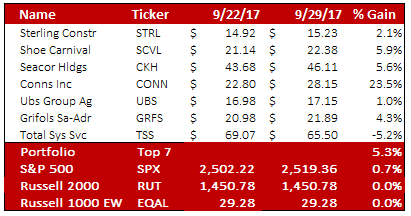 There were 6 winners this week, and only one loser. The portfolio gained 5.3% vs. 0.7% for the market. The biggest winner is Conns Inc., which is a holding company engaged in specialty retail. It is a specialty retailer that offers branded consumer goods and related services and also credit solutions for consumers.
Oppenheimer turned bullish on the department store chain, citing an improved outlook for the company's credit business and for earnings.
Although we don't expect to beat the market by this much every week, this Strategy has proven over 17 years that it delivers what investors want – alpha.
 Market Comment
It was a positive week in the market, and the 8-year bull market in stocks is alive and kicking. Since the election of Donald Trump last November, the S&P 500 has gained 16%, and there are very few signs of this trend reversing. This kind of bullish market condition is perfect for the Top 7 factor screening algorithm. If conditions remain healthy, it's full speed ahead for this strategy.
Here is the S&P performance over various time frames.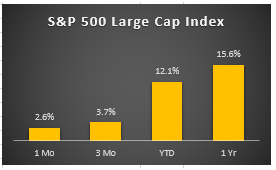 What Could Go Wrong?
There are many things that could end this historic bull market, but none of them are on the immediate horizon. The one event that would cause me great concern is the approach of an economic recession. There is no recession in sight for the next 6 months.
When the next recession does appear, subscribers will face a choice. You can continue to remain invested in the chosen stocks, or you can play some form of defense. I will have very specific and detailed options for those who want to play defense at that time. But until then, stay invested.
2017 track record of the Zen Top 7 Strategy
The Top 7 Strategy is beating the market by 15% year-to-date.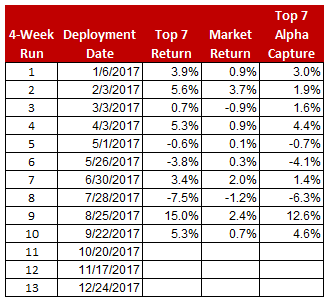 After a disappointing performance two months ago, the strategy has come roaring back. Such is the nature of this strategy – lots of small moves up and down, punctuated by just a few big moves. For 17 years, the big up moves have overwhelmed the big down moves.
Complete track record of the Zen Top 7 Strategy
The great news is that the Zen Top 7 is beating the market by 15% per year. That is a killer track record for any strategy.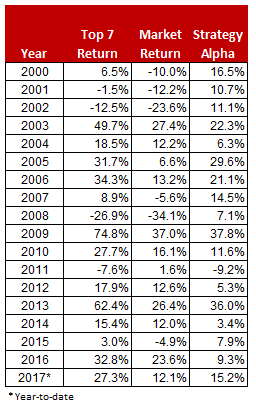 The lesson for subscribers is clear: don't let short-term underperformance discourage you, because this strategy is designed to work in the long-term.
Growth of $1,000 from 2000 through 2016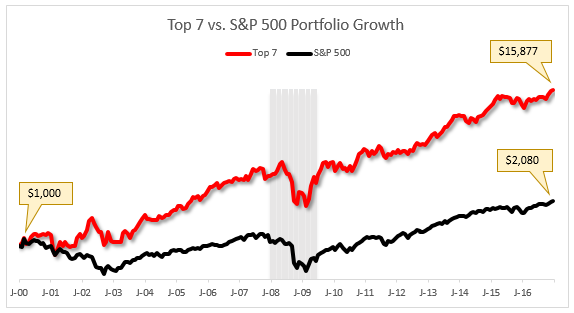 Final thoughts
The Top 7 Portfolio is beating the market by a wide margin this year. That could change, of course, but I believe it would take a severe correction perhaps even a bear market for this portfolio to give up its lead over the market.
If you have any problems, questions, or doubts about the order execution process, just send me a direct message through SeekingAlpha, or via my website at erik@zeninvestor.org