Weekly Market Scorecard – January 13, 2017
The S&P 500 is up 18.4% from a year ago.
It's up 6.3% just since the election.
Has the market gotten too far ahead of itself?
We take a look at market internals for clues.
Are there any sectors that are still reasonably priced?
We review our 2016 picks, and reveal our 2017 picks.
Let's review the market internals for the two weeks just passed.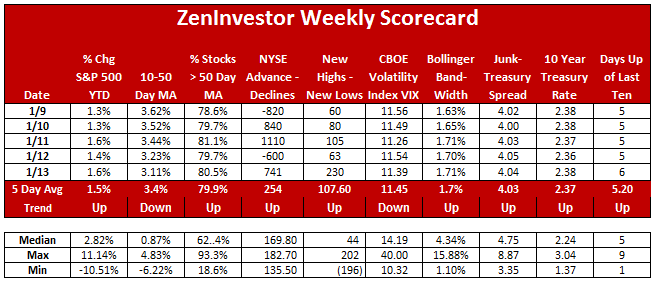 The stock market is off to a good start. Investors are still optimistic about the future, and they have high expectations that Trump will deliver on his promise to Make America Great Again. The key for investors is a quartet of specific Trump Agenda items. Large tax cuts for corporations, significant deregulation for businesses, massive spending on infrastructure and the border wall, and renegotiating trade deals like NAFTA, with the goal of bringing back high-paying manufacturing jobs.
Other agenda items, like large-scale deportation of illegal aliens, repealing & replacing Obamacare, draining the swamp, and throwing Hillary in jail, may be important for Trump's base of supporters but I doubt if investors really care.
What I think will happen is that the Republican House and Senate are going to slow the process of implementing Trump's agenda. I'm not saying they will oppose it or try to kill it… just slow it down. If that happens, then the market is vulnerable because investors have bid up prices to reflect the Trump Worldview.
Short-term momentum, as measured by the gap between the 10 day moving average and the 50 day, is a healthy 3.11% but the gap has been narrowing over the last two weeks.
Market breadth, as measured by the percentage of stocks that are above their 50 day moving average, the cumulative advance-decline line, and the number of stocks making new highs minus those making new lows, is improving.
Volatility, as measured by the VIX and Bollinger Band readings, is low. Investors are optimistic and confident that better days lie ahead. But I think they are overconfident about how quickly those better days will arrive. I expect the VIX and the Bollinger Bands to move higher as the reality of a slow-moving Congress becomes apparent.
The spread between junk bond rates and Treasury bond rates is narrowing, which supports the idea that investors are confident in taking more risk with their bond allocations.
Lastly, the number of up days out of the last ten trading days is at a neutral reading of 6.
The Trump Rally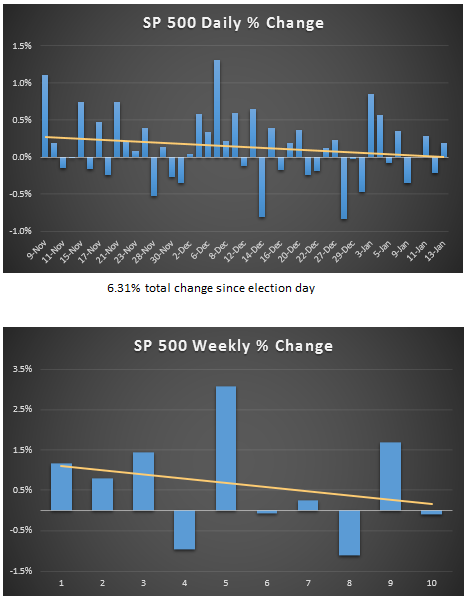 Investors are still in a buying mood since the election, but their enthusiasm is clearly waning. The yellow line on the above charts is a simple trend line, which shows a pronounced downward trajectory of both daily and weekly gains in the market.
Top performing market sectors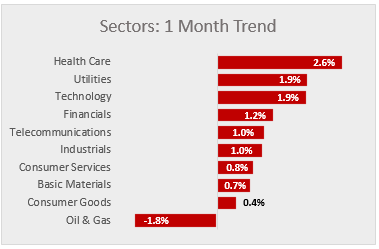 Looking at the one month performance of the ten primary market sectors we can see that health care, utilities, and technology have been leading the market higher. Utilities are a yield play, and they have had a nice bounce from previously oversold levels.
Oil & Gas is the laggard over the last month, a victim of the dreaded "reversion to the mean" from overbought levels. What we don't know is whether these trend reversals are simply corrections from overbought and oversold levels, or maybe something more lasting than that.
My view is that this reversal of fortune is temporary, and the trends that were in place last year will likely reassert themselves over the coming weeks.
Top performing industries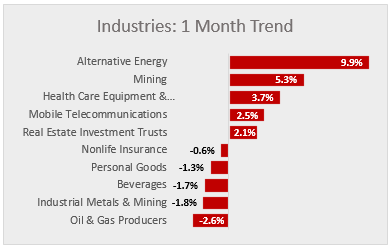 The surprise of the last month is the strong performance of alternative energy. It may just be a bounce from oversold conditions, but it also reflects the expectations for deregulation and a lower corporate tax rate.
Both the oil & gas producers and industrial metals & mining suffered a reversal, which I also think is temporary.
My Stock Picks for 2017
Before I get to my stock picks for 2017, let's review last year's picks and my track record since I began this "Ritual de lo Habitual" in 2008. Here are last year's picks, with the starting price, ending price, and price gain (excluding dividends).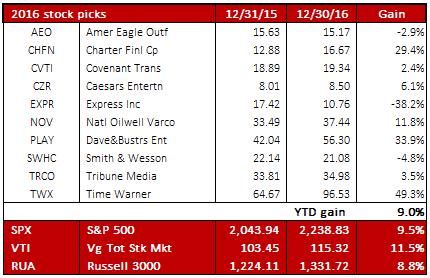 I lagged the market last year. (Sorry, my bad.) But I didn't lag by much. Excluding dividends, my list gained 9.5%. Depending on which benchmark you use, I was either just behind or just ahead of the broad market.
What you see in the table below is the excess return (above the S&P 500 index) that my annual list achieved for each year since I started publishing my picks in 2008.
I use a multi-factor screening process to arrive at my picks, but I don't present the output as a recommended list. You should always do your own research or consult your adviser before buying any stock.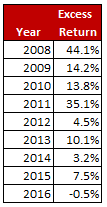 (Please note that I do not hold myself out as an expert stock picker. I don't publish a stock picking newsletter or a premium service for the purpose of picking winning stocks. I publish my annual list because it's a fun challenge, and my coaching clients ask me to do it.)
Now let's move on to my picks for 2017. As you may have guessed from my recent market commentary, I think 2017 is going to be a turbulent year both for the stock market and the economy. I'm not outright bearish, but I do think that the rally in stocks has taken us to a level where a correction is probably coming. I see the market making higher highs in the next couple of months, followed by a correction of 10% to 15%, and then a recovery back to where we are now. Yes, I'm saying that the market is likely to end flat or slightly higher for the year.
Accordingly, my picks for this year are all yield plays. My reasoning goes something like this: I would rather earn something from a yield play than nothing from a growth or value play. This is a departure from my previous methodology, and I hope I don't regret it at the end of the year. But you have to go with your convictions, so here goes.
Some takeaways
For now, the bulls are clearly in charge. As legendary investor Marty Zweig was fond of saying, "Don't fight the tape" But I think that the risks in the market are increasing. Valuations are stretched, investors are complacent, and Trump's cabinet, although clearly skilled, is largely made up of people who have little to no experience in public service.
Adding to the risks of stretched valuation is Trump's unpredictability. This isn't a criticism of Trump. He wears his unpredictability as a badge of honor. He wants to keep our enemies (and our allies) guessing about what he will do next. That's certainly a strategy. But don't forget that the market doesn't like uncertainty.
Trump has a golden opportunity to boost economic growth, bring back factory jobs, and renegotiate unfair trade deals. I hope he will deliver on these promises.
"In the short term, the market is a voting machine.
In the long term, it's a weighing machine."
 -Ben Graham