Weekly Market Scorecard – January 6, 2017
The S&P 500 is up 6.4% since the election.
It was up 9.5% in 2016.
It's up 17.2% on a year-over-year basis.
Investors have high expectations for Trump and his agenda.
They are selling Treasury bonds and buying equities.
Market volatility is low, which indicates optimism and confidence.
There's been some big changes in market leadership recently.
Let's review the market internals for the two weeks just passed.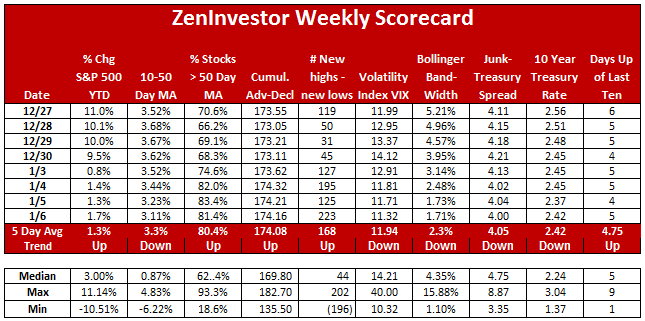 The stock market is starting 2017 on a positive note. Investors are clearly optimistic about the new administration, and they have high expectations that Trump will deliver on his campaign promises.
Short-term momentum, as measured by the gap between the 10 day moving average and the 50 day, is a healthy 3.11% but the gap has been narrowing over the last two weeks.
Market breadth, as measured by the percentage of stocks that are above their 50 day moving average, the cumulative advance-decline line, and the number of stocks making new highs minus those making new lows, is improving.
Volatility, as measured by the VIX and Bollinger Band readings, is low. Investors are optimistic and confident that better days lie ahead.
The spread between junk bond rates and Treasury bond rates is narrowing, which supports the idea that investors are confident in taking more risk with their bond allocations.
Lastly, the number of up days out of the last ten trading days is a neutral 5.
The Trump Rally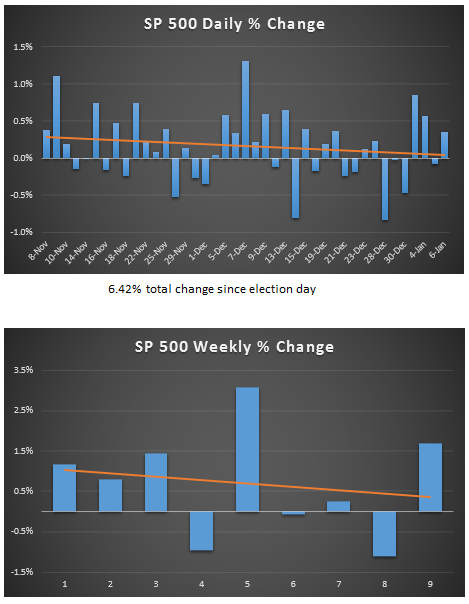 Investors are still in a buying mood since the election, but their enthusiasm is waning. The orange line is a simple trend line, which shows a slightly downward trajectory of both daily and weekly gains in the market.
 Top performing market sectors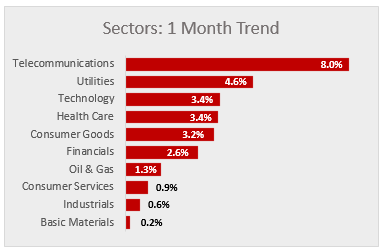 Looking at the one month performance of the ten primary market sectors allows us to drill down below the headline number and look at the undercurrents of the market. We can see that telecom, utilities, and technology have been leading the market higher for the past month. Telecom and utilities are yield plays, and they have had a bounce from oversold levels.
Basic materials is the laggard over the last month, a victim of the dreaded "reversion to the mean" from overbought levels. What we don't know is whether these trend reversals are simply corrections from overbought and oversold levels, or maybe something more lasting than that.
My view is that this reversal of fortune is temporary, and the trends that were in place last year will likely reassert themselves over the coming weeks.
Top performing industries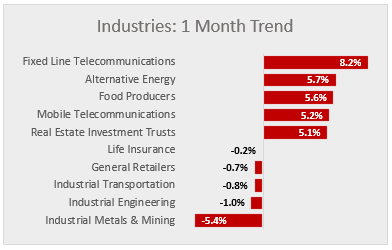 The surprise of the last month is the strong performance of the telecom and alternative energy industries. It may just be a bounce from oversold conditions, but it also reflects the expectations for deregulation and a lower corporate tax rate.
Industrial metals & mining suffered a reversal, which I think is temporary.
ETF Picks for 2017
Here is my list of ETFs that have passed a set of fundamental and technical screens. They are reasonably priced, and they represent segments of the market that should benefit from the economic growth that the Trump administration is promising. This is not a recommended buy list. Do your own due diligence before taking a position in any of these names.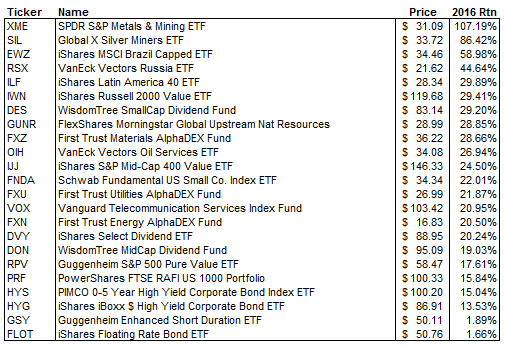 Some takeaways
We're coming to a crossroad in the market. For now, the bulls are clearly in charge. I don't think it would be wise to fight the tape right now, but I do think that the risks are increasing. Valuations are somewhere between high and very high, depending on which yardstick you use. The Trump rally has stretched valuations even further.
In my view, the market today is priced for perfection, meaning that investors are assuming that, 1) Trump's agenda will be good for the economy, and, 2) the Republican congress will go along with him and pass the legislation that will authorize the funding he needs to make it happen.
Adding to the risks of stretched valuation is Trump's unpredictability. We don't yet know how committed he is to any of the proposals he campaigned on. He has already backed away from some key campaign promises, like investigating Hillary Clinton, draining the swamp, and deporting millions of illegal Mexican immigrants. He is even hedging on his promise to have Mexico pay for his big, expensive wall on our southern border.
Trump has a golden opportunity to boost economic growth, bring back factory jobs, and renegotiate unfair trade deals. I hope he will deliver on these promises. But on January 20th, he will find out, just as Obama did, that it's much harder than he thinks to turn his vision into reality.
"In the short term, the market is a voting machine.
In the long term, it's a weighing machine."
 -Ben Graham