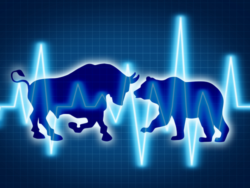 · Short-sellers smell blood in the water
· Lists of potential shorts are circulating on trading desks
· My list focuses on deteriorating fundamentals
This article is for aggressive traders only. It's not for buy and hold investors. It's not for conservative asset allocators or income seekers. But even if you have no intention to sell short, it might be worth your time to glance at my list and see if any of your holdings is on it.
Background
Why do I think I'm qualified to publish a list of short sale candidates? Because I was a professional short seller (working for a hedge fund) for five years. I was also head of derivative trading for a prominent mutual fund family for three years. My job was to design hedging strategies using options and futures. So I'm not just coming out of the blue on this topic.
Methodology
As part of my consulting practice, I run factor-based screening algorithms to select good companies to use in my model portfolios. The five long-only portfolios I manage have all done very well over the years. Common sense might tell you that if I can identify good companies, I should also be able to identify bad ones. That's what this short-selling screening algorithm does.
Step 1. From a universe of 8,000 companies, eliminate those priced below $10 per share (with a few rare exceptions).
Step 2. Eliminate those with market caps less than $500 million (again, with a few rare exceptions).
Step 3. Eliminate those with less than 20,000 shares per day of trading volume.
Step 4. Eliminate Pink Sheet names, ADRs (unless they have big volume), and takeover targets.
Step 5. This and the next step are the most critical. Eliminate all names that are rated A, B, or C on the following metrics.
Fundamental metrics: increasing quarterly and YOY earnings, positive earnings estimate revisions, above-median profit margins relative to the corresponding industry group. Increasing market share, ROE, and ROIC.
Technical metrics: rising 50- and 200-day moving average price momentum, and positive 30 day on-balance volume.
Step 6. Eliminate names that were rated C, D, or F on the same scale one week ago.
These 6 steps produce a list of companies that are showing signs of rapid deterioration in terms of the above-mentioned fundamental and technical metrics. The table below shows the 17 names that passed all the filters as of the close of business last Thursday.
Caveats
This is not a recommendation to sell short any of these names. It is a list of candidates for further research. Among the things you should investigate is the availability of the shares in the securities lending marketplace.
Selling short carries extreme risk of loss. Before you enter a short position in any stock, make sure that you have safeguards in place, such as stop loss orders, long calls or short put options. Always do your own research before making any trading decision.
Happy hunting, and please do let me know if you decide to trade any of these names, after doing your due diligence. I can't promise anything, but I will make an effort to message you if I notice any material changes in a name that you decided to trade.
Disclosure: I have no positions in any of the stocks mentioned in this article, but I may initiate a short position in any of them over the next 72 hours.