The VIX index is a measure of anxiety among participants in the options market.
Specifically, options on the future price of the S&P 500 index. When options investors are anxious about the future for the S&P index, they increase their purchases of put options in order to hedge the downside. When they do this, the VIX index goes up.
The VIX index itself is extremely volatile. It meanders in a sideways to downward trend for months at a time, and then suddenly spikes higher, usually in reaction to a scary headline event. The best way to capitalize on this tendency is to wait for opportunities to buy VIX when it's at the low end of its' trading range. That's where it is now.
The VIX index is currently trading with a 10 handle. The lowest it has been in the last 10 years is 9.89. It has the ability to spike well into the 40's when something happens to spook options investors.
You can't buy the VIX index directly, but you can buy call options on the VIX futures index. I've been doing this for clients, and for my own account, since 2005. Out of the 16 attempts to capitalize on low VIX readings, 14 have been profitable. That's an 87.5% success rate. Not a guarantee, but a great proposition.
The only thing I would caution you about is position size. Keep it small. No more than 5% of your funds. And be sure to run this idea past your broker, adviser, accountant, planner – or whomever is responsible for stopping you from doing something you shouldn't be doing.
The case for going long VIX
This chart shows the track of VIX for 2016 and 2017. As you can see, the black line (2017) is at it's lowest point since January 1st, 2016. It doesn't often get this low, which is why it caught my eye. If there were nothing but blue skies and sunshine on the horizon, I probably would wait and see whether it would move even lower.
But there is a greater-than-usual amount of uncertainty ahead- serious geopolitical tensions, government shutdown talk, an overvalued stock market, and an economy that's growing at a snail's pace. And yet, for some reason, big investors are remarkably calm and optimistic about the continuation of the historic bull market we're in.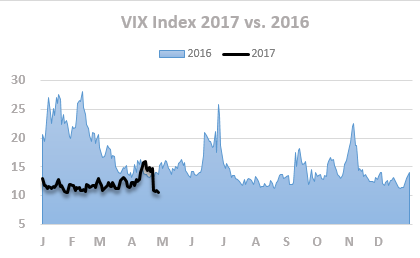 Here are the July call options that are available on VIX right now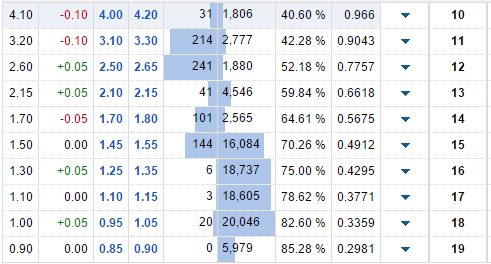 If you decide to do this trade, you can choose which option fits your risk preferences. I am going to choose the July $14 strike, with a $1.75 limit on my purchase order. You may want to do June, or August, or a different strike price. Do your own math, and if you are not familiar with options trading, I suggest that you make this a paper trade and observe what happens going forward.
Disclaimer: This is not a formal trade recommendation or specific financial advice. It's a trade idea that must be carefully vetted by you and/or your advisor. Options are risky, and there is a significant chance of either large gains or large losses.